[Japan] Category Negative Growth in YTD 2020 – what changed with COVID-19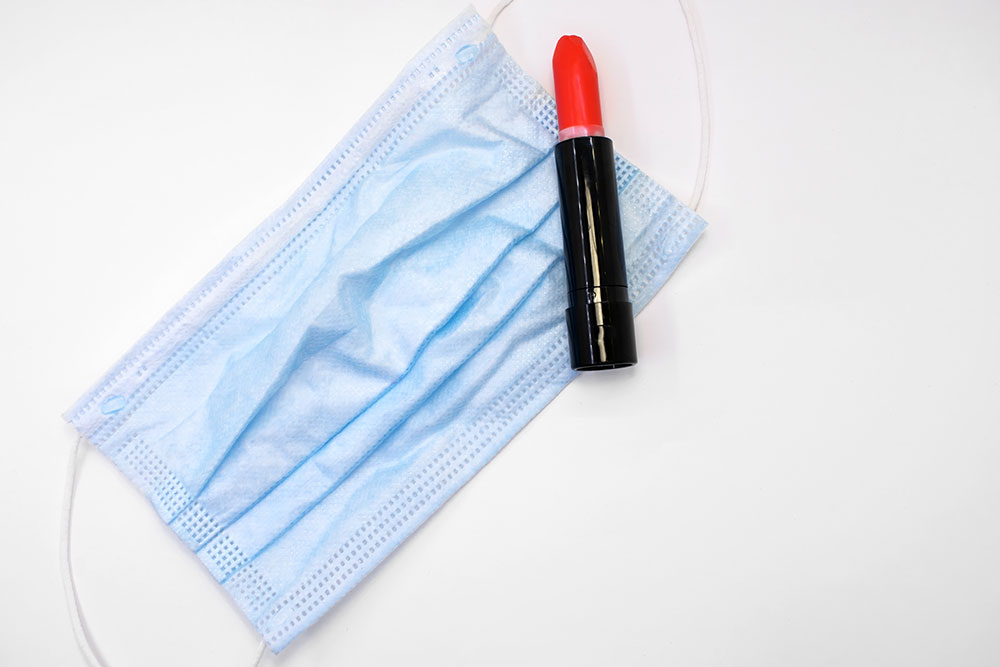 Cosmetics and OTC categories such as Lipstick, Antispasmodic, Common cold remedies etc were negatively impacted along with behavioural changes under COVID-19.

Intage Knowledge Gallery (IKG) - Japan consumer insights on 07 December, 2020

Like the rest of the world, Japan was heavily attacked by COVID-19 throughout the year in 2020. The FMCG market was no exception in Japan. Which categories were affected by COVID-19 negatively in 2020?
1st as LIP STICK and other 4 categories from cosmetics ranked within top 10 stroke categories 
While categories such as masks, disinfectants, and thermometers which sales value increased significantly due to the influence of COVID-19, there are also categories that struggled in sales due to changes in behavioral patterns called "New Normal". We would like to introduce negative sales impact rankings influenced by various factors such as refraining from traveling, fewer opportunities to go out, thorough hand washing and gargling, wearing masks, and encouraging work from home.
Chart 1

Data: SRI tabulation period: Jan-Oct 2020
Index: Growth rate in sales value (100=previous year sales)
Target: INTAGE standard categories such as food, beverages, and daily consumer goods
*Ranking that takes into account the decimal point
LIP STICK which is in 1st place in the negative growth ranking. Its sales was level of 44% of previous year's sales. By wearing mask, the number of people who do not wear lipstick has increased, and it was listed as one of the categories that represents COVID-19 affliction, but manufacturers are also responding to this impact by developing lipsticks that is hard to stick to masks.
There were other categories of cosmetics that suffered like CHEEK BLUSHER (66%) which is in 4th place, MAKEUP FOUNDATION (68%) in 5th place, BASE (72%) in 6th place, FACIAL POWDER (79%) in 7th place. 5 cosmetics categories ranked within 10th place. In addition to masks, decrease in wearing makeup itself can be considered as a factor under the situation which opportunities to go out reduced due to state of emergency issued in April and the encouragement of work from home.
On the other hand, Basic cosmetics seem to be with less impact (chart2). Even under pandemic, overall 90% was maintained, with CLEANSING 92%, and FACE WASH CREAM 100%. In addition, POINT MAKE(EYE) (general term for make-up cosmetics used around the eyebrows and eyes) accounted for 88% overall, and EYEBROW and MASCARA accounted for 90%. Covering under masks does not refrain people from wearing eye makeup. Even if they wear a mask to cover their mouths, many people wanted to wear makeup for the exposed part of the face.
Chart 2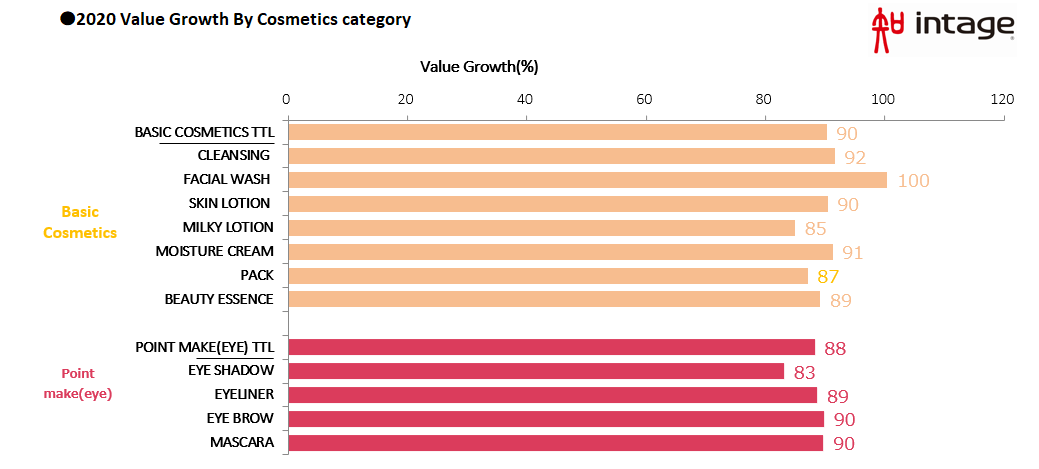 Data: SRI tabulation period: Jan-Oct 2020
Index: Growth rate in sales value (100=previous year sales)
Target: Among cosmetics, Basic cosmetics/Point Make(eye) category
2nd place- The ANTISPASMODIC is hit due to self-restricted travel and people movement.
There have also been major changes in the over-the-counter drug category. The second-ranked Antispasmodic is a drug that suppresses symptoms such as dizziness and also prevents motion sickness, accounts to 54% from previous year's sales. There were also weeks that sales dropped to less than 20% level from previous year sales due to overlapped with the state of emergency declaration thereby impacting the sales, especially during the Golden week from latter half of April to first week of May which were originally people usually travel. After July, because the infection subsided, and measures such as "Go To Travel" campaign were taken, there was a time when the category recovered to some extent. However, overall it still remained half level from previous year (Chart 3).
Chart 3

Data: SRI
Tabulation period: January-October 2020
Index: Growth rate in sales value (100=previous year sales)
Target: OTC drug categories which value growth rate are lower than OTC total
Due to the influence of COVID-19, many categories of over-the-counter drugs were affected due to significant decrease in the number of tourists visiting Japan. CARDIOTONICS in 3rd place, ANTITUS.&EXPECTORANT (drug that suppresses coughing and makes sputum easier to produce) in 8th place, VITAMIN B1 PREPARATIONS in 10th place, EYE DROPS in 24th place, etc. were also impacted as it had a high inbound popularity because travelers from overseas bought it as souvenir.

It has become clear that the decrease in domestic and international travel had a significant impact on the surrounding fields.
9th place- COMMON COLD REMEDIES was affected by prevention of infectious diseases.
It was often reported that there were few people who caught cold this year, this can be proved by the sales value of COMMON COLD REMEDIES which is in 9th place with 79% from previous year. By age group, we can also see that the purchase rate has declined in all age groups (Chart 4). COVID-19 countermeasures such as wearing mask, washing hands and gargling, can also be used as preventive measures for other infectious diseases. It also brought down the number of influenza patients to an exceptionally low level this year. The hygiene categories such as masks, disinfectants, thermometers, mouthwash, and wet tissues dominated the top-selling rankings this year, the result in turn reflects the current social situation.
Chart 4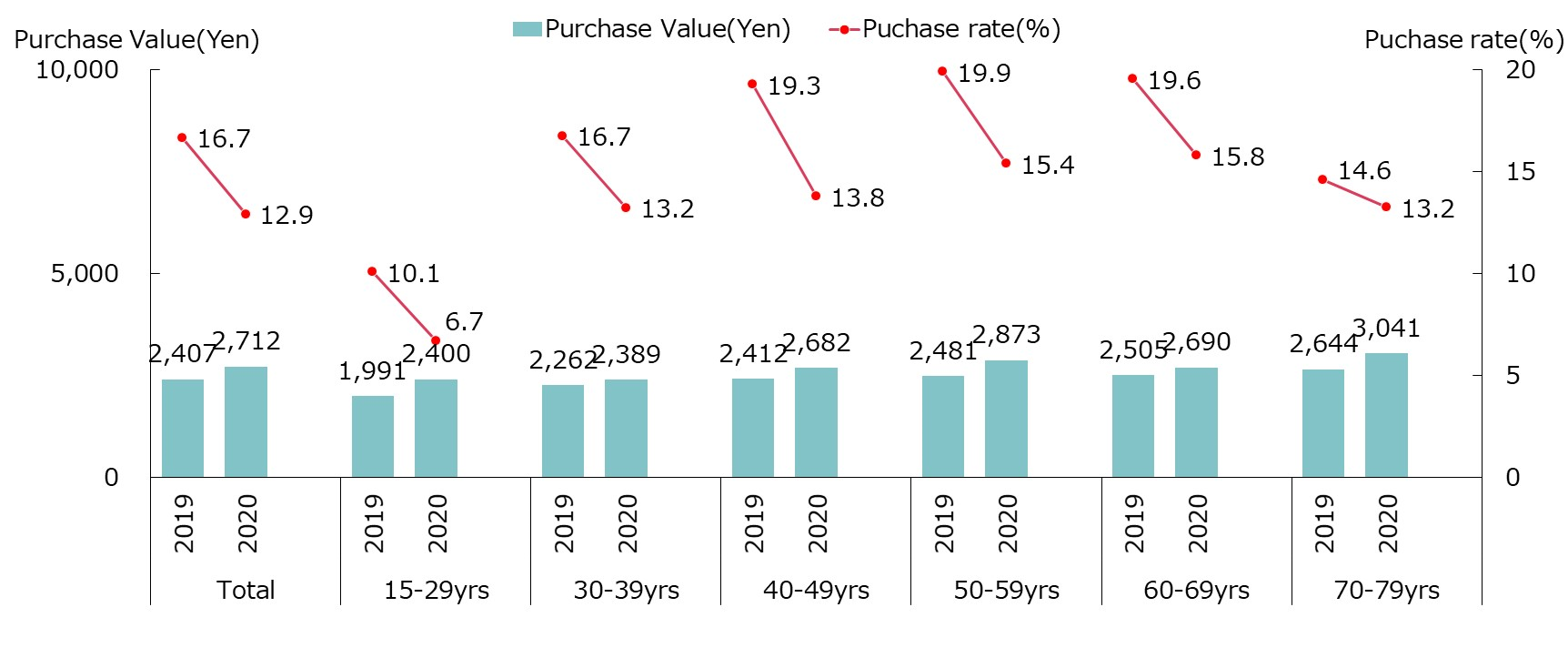 Data: SCI
Tabulation period: 2019, 2020 (Jan to Oct of each year)
Measure : Penetration, Purchase value per purchaser
Target: Purchase of common cold medicine for personal & common use (Excludes use by others)
Changes showed in a wide range of categories due to less opportunities to go out, working from home, etc.
Among the Confectioneries, GUM (82%) which is in 11th place, CARAMEL (91%) in 28th place, CANDY (91%) in 29th place also struggled. There were situations where people consumed confectioneries while on the go, or in the office, but it is presumed that it has decreased due to work from home and decline in people movement. There are also data showing that sales of BOTTLED NUTRITIVE DRINK MINI (85%) which is in 14th place also fell in urban office districts, indirectly affected by the work style change.
 CONTACT LENS PREPARATIONS (83%) which is in 12th place, DEODORANT (88%) in 18th place, SPORTS DRINK (88%) in 19th place, DISPOSABLE BODY WARMER (89%) in 21st place, EXTERNAL ANTI-INFLAMMATORY ( 89%) in 23rd place, said to have low ranking due to fewer outing and decrease in sports and leisure opportunities.
2020 was a year of turmoil. Pandemic on a global scale has significantly changed people's lives and behaviors. While there are concerns about the spread of infection in Japan during winter, development of vaccine around the world came as a good news. If this brings us back to normal life to some extent, we can expect a sharp recovery in demand even in categories where sales were not doing well. There are possibility that new demand will be created by the development of new products born by COVID-19, such as lipsticks that doesnt stick to masks etc. At the end of next year, we plan to look at changes in Japan from perspective of purchase situation, to see what kind of year 2021 will be.
Please also refer to article: [Japan] Category Growth in YTD 2020 – what changed with COVID-19
https://www.global-market-surfer.com/pickup/detail/155/Japan+Category+Growth+in+YTD+2020+%E2%80%93+what+changed+with+COVID-19.html
What is Intage SRI?
https://www.intage.co.jp/english/service/platform/sri/

What is Intage SCI?
https://www.intage.co.jp/english/service/platform/sci/
---
執筆者プロフィール

Mr. Toshimitsu Kiji

After working for a consumer goods manufacturer of beverages and food industries, currently in charge of INTAGE PR.

編集者プロフィール

Ms. Makiko Futaba

A point of contact for the FMCG industry in Japan.