<Report from overseas office> [India: World Residence Tour] India's diversity seen and felt through rural life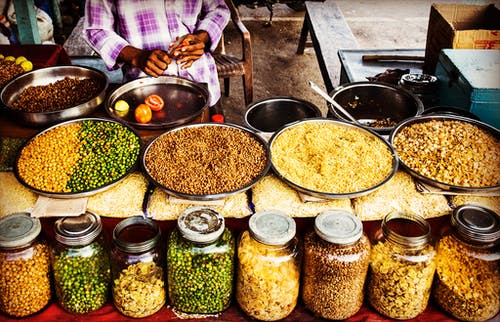 When conducting consumer research in India, many people focus on Delhi, the capital city, the three cities of Madras, Bombay, and Calcutta that have prospered as trading cities since the Age of Sail, namely, present-day Chennai, Mumbai, and Kolkata, as well as Bangalore and Hyderabad, which have seen remarkable growth in recent years in new industries such as IT and healthcare. The population of these major cities is growing rapidly. Each of these major cities has a population of several million, making them attractive markets on a city-by-city basis. However, even if you add up the population of the top 10 cities, the total population is about 64 million (as of 2011). When you consider that India's total population is 1.3 to 1.4 billion, you can sense that there is a very large market expanding beyond the major cities.
Therefore, in this paper, I would like to introduce the aforementioned aspects of life outside the city.
[ Population by city: 2011 Census ]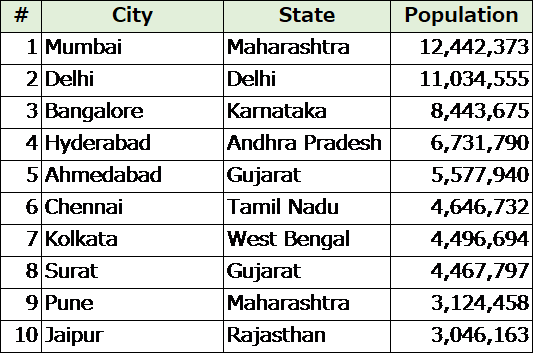 Source: https://www.census2011.co.in/city.php
Ahmedabad
The state of Gujarat, in the western part of India, is the birthplace of Mr. Modi, the current Prime Minister of India, and has continued to develop by taking advantage of its geographical location between Delhi, the capital, and Mumbai, the commercial capital, and good access to the Middle East and Africa. Ahmedabad, the capital of the state, is a large city with a population of over 5 million.
The city center is home to modern shopping malls and supermarkets, and there is a rush to build condominiums (according to Knight Frank, new construction starts in the second half of pre-Corona 2019 were 176% higher than the previous year).

[Left] Commercial facilities in the central area.
[Right] The view from the condominium. Many condominiums are under construction in the surrounding area. (Source: photo by the author)
One of the characteristics of the lifestyle in this region is that they stockpile a lot of food. This seems to be an old custom, but Gujaratis believe that it is better to buy food when it is in season, so they buy large quantities of staple foods such as wheat, rice, and spices that can be preserved during the harvest season. For this reason, when you visit homes in Ahmedabad, you can see features such as a large storage room attached to the kitchen, and the kitchen itself has a lot of space for storing food. In addition to the space, there are also more Tupperware-like storage containers than in other parts of the world.


[Top] A view of the storage space (Source: Consumer Life Panorama)
[Bottom left/right] Storage space in the kitchen with containers for storage (Source: photo by the author)
Guwahati
Next, I would like to introduce the northeastern part of India. This region also shares borders with Bhutan and Myanmar, and is home to many Mongoloid races, with different lifestyles and diets. Guwahati, the gateway to this region, is a major city chosen as a target when conducting consumer research in the northeast.
First of all, the city was not as developed as big cities like Delhi, and I felt like I was back in Delhi more than 10 years ago. Most of the cars on the streets were small hatchbacks, and I didn't have a chance to see any of the high-end imported cars that you see in big cities. In terms of distribution, I had the impression that modern trade was still scarce, and traditional trade such as papa-mama stores and kirana was the mainstream. When talking with local consumers, it seems that most of them buy fresh food in bulk and store it in the refrigerator, rather than buying what they need at a nearby market or grocery store in the amount they need.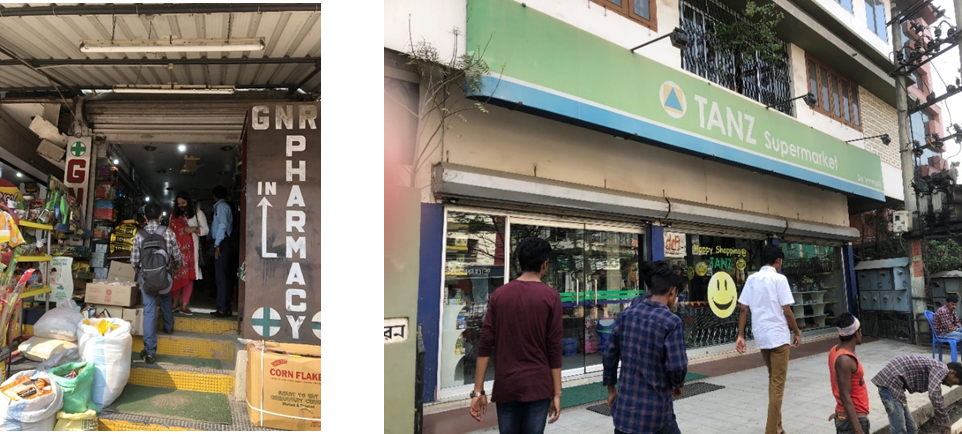 [Upper left] City market, [Upper right] Kirana
[Bottom left] Small supermarket, [Bottom right] Modern trade (Source: photo by the author)
Looking at the diet, we can see that it is different from what most people imagine the Indian diet to be. The first major difference is that there are many non-vegetarian meals. In addition to chicken and mutton, which are also eaten in other parts of the world, pork, duck, and river fish are also eaten in many households. At home, river fish is eaten almost every day, and pork is eaten several times a week. Their staple food is rice, and they do not often eat Indian bread like naan or chapati, which we usually associate with Indian food. In fact, when we visited kiranas and supermarkets, we were surprised to see the wide variety of rice available.

[Left] Menu of a famous local set meal restaurant: only three vegetarian dishes are available, the rest are non-vegetarian.
[Middle] Pork Thali (set meal): The pork curry is filled with pork belly. The rice is a light Indian rice.
[Right] Pork chutney and chicken chutney: Ingredients that you don't see in Delhi, Mumbai, Bangalore, etc. were also on display. It tastes like jerky. (Source: photo by the author)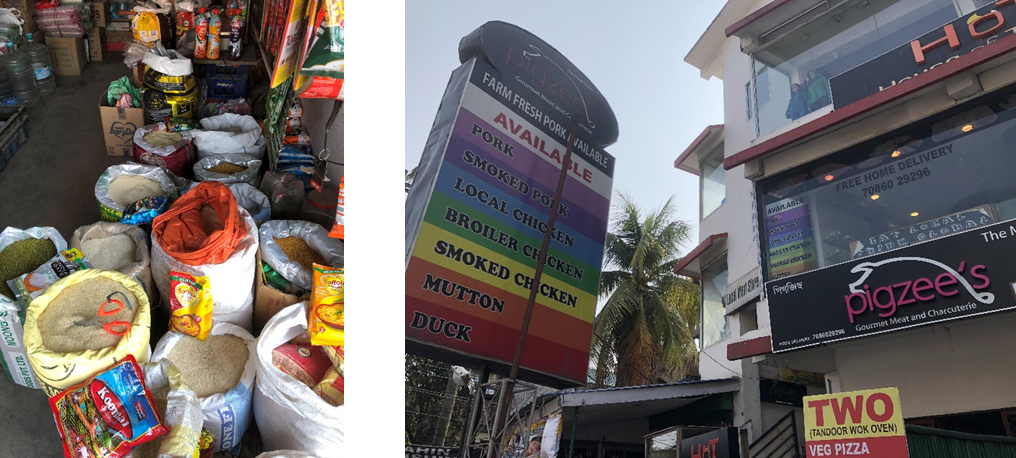 [Left] A variety of rice is sold in the Kirana store.
[Right] A butcher store with pork in the forefront. (Source: photo by the author)
Finally
India is a country where the dialect changes every 15 miles, the taste of curry changes every 25 miles, and the language changes every 100 miles. India is a country of diversity. Therefore, to be successful in multiple regions, it is essential to know the lifestyle and preferences of each region.
Since it is difficult to travel to regional cities in India, where the corona disaster continues, Intage India continues to use digital tools such as video call interviews to understand consumers. These online interviews with consumers can be streamed to Japan. As it is difficult to visit India due to the Corona disaster, if you have any requests to understand Indian sei-katsu-sha in Japan, not only in regional cities, please feel free to contact us.
Introduction of Consumer Life Panorama
Consumer Life Panorama is a web-based database from Intage that allows you to see the real living conditions of consumers in Japan and overseas. You can view 360-degree images of the living environments of consumers in various countries, and see their daily routines, flow lines, and digital lives.
Some of the photos in this article are taken from the database. This service can be used when you want to observe the living environment of overseas consumers at hand, without the need for customized surveys.
The Consumer Life Panorama demo site can be found here
For an overview of Consumer Life Panorama here
---
Author profile

(Mr.) Ryousuke Nakamura

He has been stationed in India for three years, spending one year each in Mumbai, Delhi and Bangalore. He is an expert on India, having been exposed to the customs and culture of the whole country through his projects. He remains in India during the lockdown to provide clients with first-hand information about the country.